Gone are the days of printing out your contracts! Details makes it easy for your client to sign the contract right online.
Before your client can sign the contract, there must be a published version. If you're unsure what that means, check out this article: How can my client view the proposal? (Saving and Publishing your proposal).
Once a link has been generated, you will copy and paste that link into your email and then send it to your client.
Your client will click the link in your email - this will pull up the proposal in a browser tab.
Your client can scroll through all the pages to review the contract. Once complete, they will click the 'Accept and Sign' button at the top of the page.

Once clicked, a box will appear. Once your client reads the message, she will type in her email and name. (Note: at this time, there is only one signature space).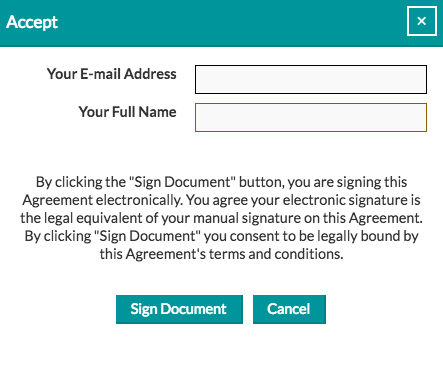 Once the 'Sign Document' button is clicked, the page will refresh, and your client can view her signature at the bottom of the contract.
You will receive an email stating that a client has signed the contract.
Special Notes: Details will store all signed contracts. Your client can sign the contract as many times as needed.