Once you Save and Publish your first proposal, Details will store each and every version. Not only can you view your past versions, but you can change what version the link is directed to!
In this article, you will learn:
How to access/review past versions.
Change the proposal version the link is directed toward.
How to access/review past versions:
To access your proposal versions, head into the event (the easiest way is by clicking the event date on the Event List).
Click the client name located on the upper-right corner of the page.
Click 'View Documents'
This will open a list showing all signed contracts, as well as all of your proposal versions.
To view, right click on your preferred contract and select 'Open Link in New Tab' - this is a great way to review multiple contracts at once.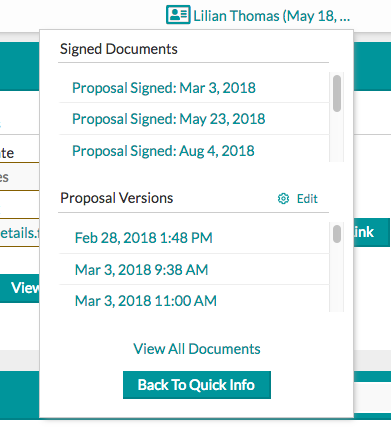 To redirect the proposal link to a past version:
Toggle the version you would like the link to direct toward.
Click the 'Change Proposal' button.
Once complete, the page will refresh. The eye icon will be next to your selected version.
Click 'View' to review the selected proposal.
Special Note: Changing the proposal does not change the link.