Problem: You saved and published the proposal, but your client is viewing the old version when they click the link.
Solution: Have your client clear their cache, open the link in a different browser, or view the proposal in an incognito window. Personal devices (especially mobile) use different systems and hold on to data in different ways. Depending on how they store cookies, it is possible that their device is holding on to the last version's cookies. This is why you can view the new one and they cannot. While we do our best to make the proposal viewing process simple, we cannot override their settings.
To open an Incognito Window & view:
Click the 3 dots in the upper-right of the Chrome screen.
Select 'New Incognito Window'
Have your client copy and paste the proposal link into the URL bar.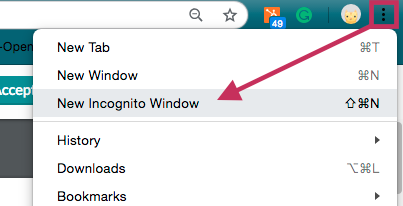 To clear the cache (Chrome instructions):
Follow these steps to clear your browser cache.
Click the three dots in the top-right corner of your browser to open the menu
Select 'More Tools' and click ' Clear Browsing Data...'
A little window will pop up, use the 'Time Range' drop-down menu to select 'All time'
Click the 'Clear Data' button to complete
Once this is complete, they should see the new version when they view the link.
Special Note: Clearing the cache is similar to taking out the trash. It's a great way to clear things out. We recommend doing this every once and a while!