Every time a client signs a contract, Details will store the signature with the specific version the client signed.
Whenever you make changes, we always recommend you have your client sign the contract. This will ensure you're covered in case there are any disputes (we hope not, but it happens!)
To access the signed contracts:
You can access previous versions of your proposal from the 'History' section of the 'Proposal Access' area located on the 'Proposal' page of your event.
Click the 'History' button located in the upper right-hand corner of the 'Proposal Access' section
Click the blue paper icon next to the version you wish to see
A new tab will open up for you to view your proposal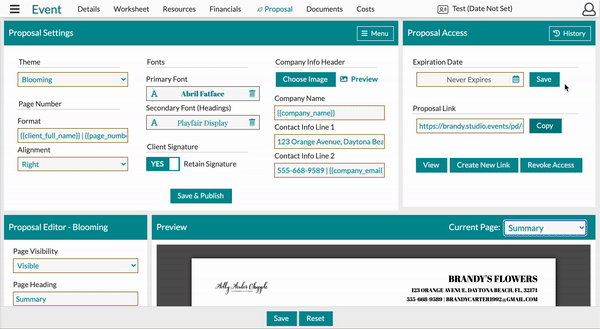 You can also access previous versions from the client quick menu
Click your client's name in the upper-right corner.
Click 'View Documents'.
All signed versions of the contract will be listed. To easily view them, right-click and select 'open in new tab'.
You can complete a similar action to view your proposal versions (also listed).