Changing the photo allows you to give a fresh new look to a proposal!
Perhaps you found a better proposal you want to showcase for your proposal, or you want to update the photo for your Recipe Gallery. Here are a couple of things you can do to accomplish this:
Changing the photo directly in the Design Worksheet recipe:
Head to the Design Worksheet and recipe.
Click the photo to open the photo upload box.
Upload your new photo or select from other photos in your Inspiration Gallery or Design Board.
If you previously saved the recipe to your Recipe Gallery, select 'Update Gallery Recipe' to add the new photo.
Once you save the Design Worksheet, Save and Publish a new proposal (if needed) so your client can see the new image(s).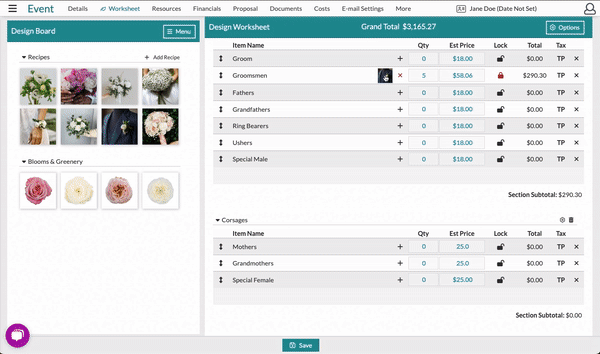 Changing the photo in the Recipe Gallery:
Go to the Recipe Gallery.
Find the recipe you wish to edit.
Click on the recipe, and the preview will open. Click 'Edit'
Upload the new photo and click 'Save'
Special Note: It may take a page refresh for the new photo to show.