Building a recipe is valuable for many reasons. It can help you with ordering and controlling costs, accurately pricing your designs, as well as giving your team well-planned direction when the time comes to put everything together!
Details Flowers Software's top supporting document is called the Recipe PDF. You can find this document by clicking Documents while in an event.
The Recipe PDF will share:
Line item quantities.
Inspiration photo.
Stem counts.
Special Note: If you can't find your Documents page at the top of the screen, use the 'More' drop-down menu
The Recipe Pdf also has setting options that will allow you to toggle on the following data:
Recipe Descriptions
Recipe Prices
Recipe Notes
You can also open a new tab when you click 'Download.' This will allow you to download and Print the PDF with the client's full name on every page.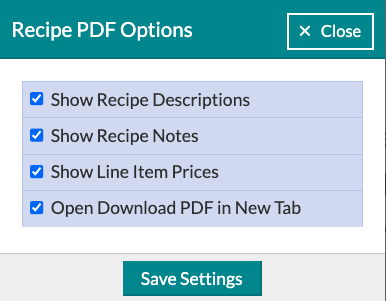 These options can be added in the 'Settings' menu found in the upper right-hand corner of your screen. From there, click the checkbox(s) for the optional data you want to show.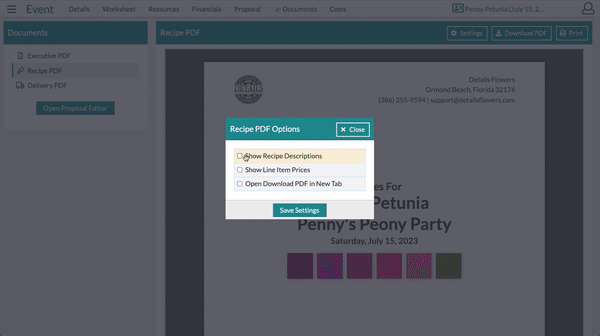 For more information about the documents page and the three PDFs included, check out our short walkthrough video below!