Documents: The Executive PDF
At times, you may find yourself in a situation where a full proposal isn't the best option. However, that doesn't mean you can't give them a beautiful list of their desired items.
That's when the Executive PDF comes into play. It's automatically generated based on the quantities and prices you place in the Design Worksheet. It even includes their color palette!
The Executive PDF is a great option for:
Quick quotes.
Small events, such as a couple personal flower designs.
Pick-up events.
and whatever else you can imagine!
To use the Executive PDF click Documents while in your client's event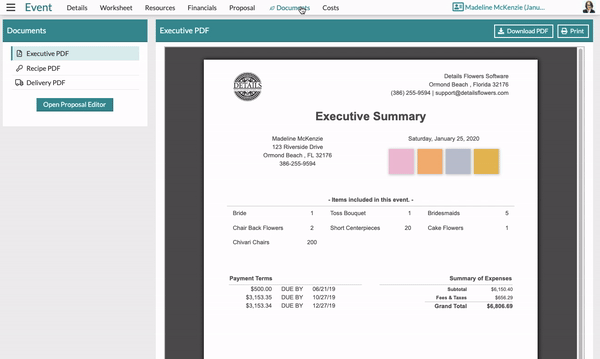 For more information about the documents page and the three PDF's included, check out our short walkthrough video below!