Never guess if you have full bunch counts again!
Aside from making sure your client's needs are met, the most important thing to keep in mind while building out your arrangement is staying at or close to full bunch counts. Let's take a look at the built-in stem counter in Details called the 'Items Used' panel.
Accessing the Items Used Panel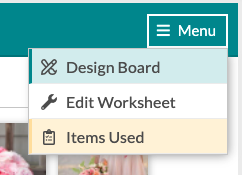 To access the 'Items Used' panel, follow these steps:
Navigate to your event Worksheet
In the upper right-hand corner of the 'Design Board', click the 'Menu button
Select 'Items Used' from the available options
Using The Items Used Panel
Once on the Items Used panel, you will see a list of every ingredient that you have used within your Worksheet! Next to each item, you will see a circle with three varying colors: Red, Grey or Green.
The red circles will mean that you are nowhere near a full bunch (less than 80%), The grey circles will mean that you are within 20% of a full bunch, and the green circles will mean that you have exactly a full bunch.
To see what recipes you are currently using that item in, how many stems are being used in each, and how much you are under or over by, click on the triangle to the left of the item name.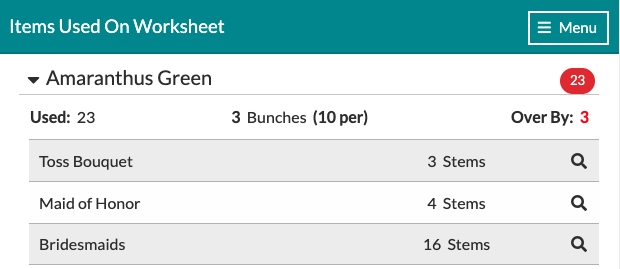 Clicking on the magnifying glass to the right of each listed recipe will move your Worksheet view on the right to that particular recipe for you to make changes!