The Color Selector: History
You will always have the option to go back to a previous color with the 'History' tab!
With the Color Selector's 'History' tab, you can always look back at previously selected colors. The 'History' tab will show the history of the last sixty colors you have looked up with the color selector.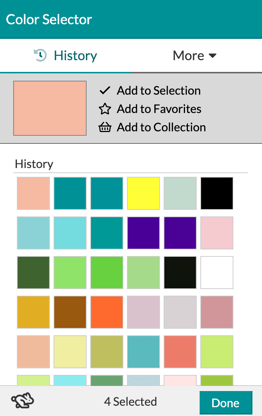 To access the 'History' tab, click the 'More' drop-down menu and select 'History' from the available options. To select a color, click on the color tile and then click the 'Add To Selection' button next to the color preview.
Note: This 'History' tab is user-specific, not company-specific, so each user will have a different history.