Keep track of your clients, their contact information, and manage their events all from the Client Info page of Details!
Accessing the Client Info
Unless you changed your Event List settings to navigate to different areas, you can click on the client's name from the Event List to access the Client Info page. Additionally, you can right-click on any column in the Event List and select 'Client Info' from the Right-Click Menu(see it in action below)!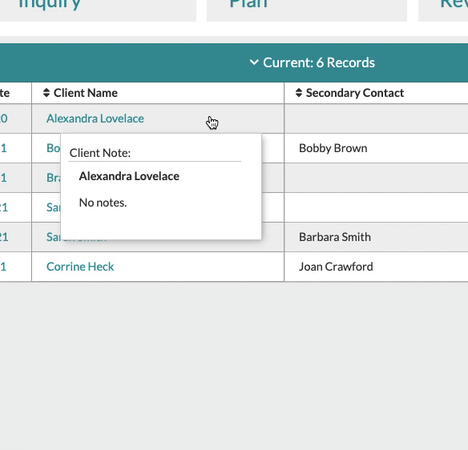 The 'Contacts' Page
The first page you'll land on is the 'Contacts' page, and it's pretty straight-forward, with a few hidden gems. Let's break down each area:
Contact Details: This is just what it sounds like! It's where you'll enter or update contact information like names, addresses, phone numbers, or email addresses. You can also log some notes here (and they only show up for you!)
Add Contact: You can add additional contacts (as many as you want and/or can keep track of) to each event by clicking the 'Add Contact' button in the lower-left side of the page. Need to add the mother of the bride? Or the groom? This is where you'll do it!
The 'Day Of' Contact: In the top-right corner of any of the contacts is a check-box for the 'Day Of Client'. This is somebody you can mark down as the person you should get in-touch with on the day of the event. This is also the contact who's information will be included on your Delivery PDF check-list!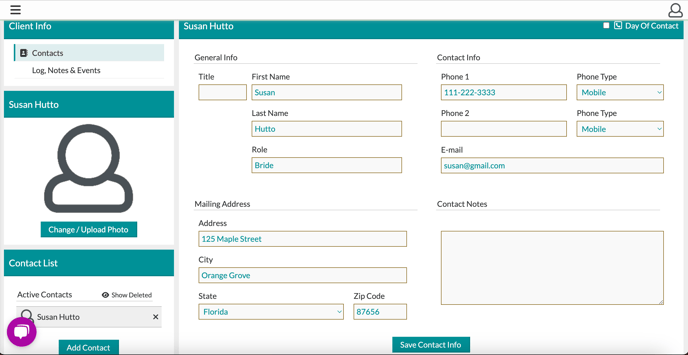 The Log, Notes & Events
In the top-left corner of the Client Info area is a link to the 'Log, Notes & Events' page, where you'll find more useful tools for managing your clients!
Client Activity Log: Use this log to jot down notes about any activity related to your client. Discuss some changes on the phone? Make a log entry! Additionally, any payments you log for a client will automatically be included in the Client Activity Log.
Client Notes: There's another space for notes on this page, and they only display for you!
Client Events: In the bottom-right corner is where you'll access any events associated with this client. It's also where you'll create additional events for the same client by clicking the 'Create New Event' button.