Details Flowers is partnered with some of the top suppliers to bring you beautiful, fresh blooms at great prices!
If you currently send your orders to one of our partners, you're able to use the RFQ (request for quote) feature within Details. Even if they are not your preferred supplier, you can still send an RFQ to compare prices. If your preferred supplier is not a part of the available wholesalers on Details, you can download or print the order and send it to your supplier via email. Below, you can find out how to do both!
How to print or download the Costs table:
Click either the 'Download CSV' button or the 'Print Table' button.
Each will produce a file with all data on the table - you can hide certain columns (as needed) on the CSV file.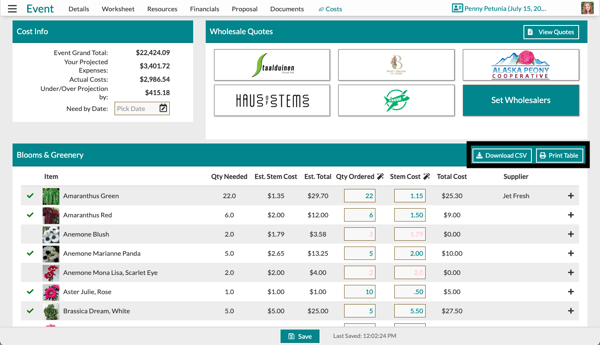 To send an RFQ to one of our partners:
Click the button for one of our suppliers (you can do this more than once if you want to compare prices from multiple suppliers).
In the box that pops up, select the blooms you would like to add to the quote.
Click 'Add to Quote'
On the next page, scroll toward the bottom. At this time, update your stems to match common stems/bunch so the supplier will be able to quote everything accurately.
Add in a message to the supplier - this is optional, but if you're going to potentially start a relationship, it's always nice to introduce yourself! You can also add in any specific requirements at this time.
To send the message, click 'Send' below the message box.
To send the RFQ, click 'Save and Send' at the bottom.
Once the RFQ has been sent, you'll see the log at the top of your Costs page. Details will also fill in the table with your ordered quantity.
Special Note: Sending the message does not send the quote!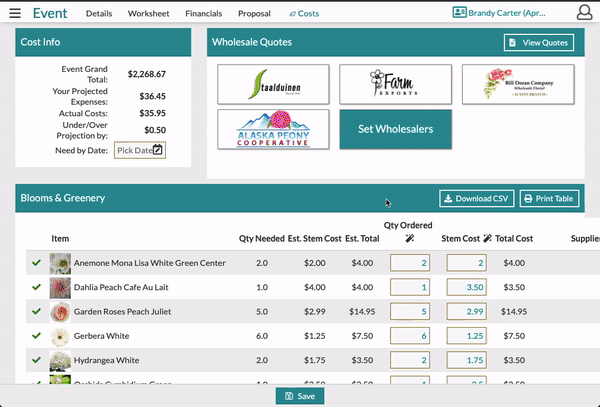 Accepting/rejecting a quote:
Once a wholesaler sends a quote back, you'll receive an email notification. Click to view the quote, otherwise, go to the Costs page of the event at a later time. You can find the quote at the top-right of the Costs page.
Click the wholesaler name to view the quote and accept or reject it - you can also see the prices in the table below.
Scroll to the bottom to find your requested blooms. Click the 'X' to reject it. Click the green checkmark to accept it.
Once accepted, the quote will move into the order stages. You and the supplier will partner to create an account and move forward with the order.
Special Note: Your quote does not move into the ordering stages until you accept the items. There is no obligation when requesting a quote!