You have created the event, the client has booked you, and the event is just around the corner. It's time to order your flowers!
Details makes creating your order sheet easy using the 'Costs' page of the event. On the costs page, in the upper right-hand corner, the first thing you see is the 'Cost Info' section. This section will list out:
The Event Grand Total
Your Projected Expenses
Your Actual Costs (this will update as you begin to fill out the page)
Under/Over Projection By
Need By Date

To the right of the 'Cost Info', you will see the 'Wholesale Quotes' section. We are partnered with some amazing wholesalers who can order from directly through Details! Select a wholesaler to request a quote from for the items you are going to need. Follow these steps to build you quote:
Select a few items or select all items at once by clicking 'Check All' in the bottom right-hand corner.
Adjust the 'Ask Price/Stem' or keep the price that is pulled from the listed price of the item in your 'Item Gallery'
Adjust the 'Quantity' for the number you would like to order is different from the amount listed which is pulled from the quantity listed on the 'Worksheet'
Click 'Save & Send' to send the quote to the wholesaler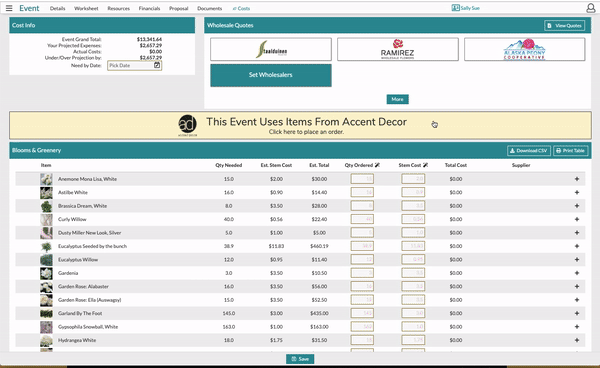 You can keep track of your sent quotes from this page as well. Chat with the wholesaler using the 'Messages' section, see information about the wholesaler using the 'Seller' section, and view information about your quote including the asking total using the 'Quote Info' section!
If your wholesaler is not listed, you can always request a wholesaler using the 'Request A Wholesaler' form. Though we can't guarantee we will add them to our list of wholesalers, this will help us to reach out in the future!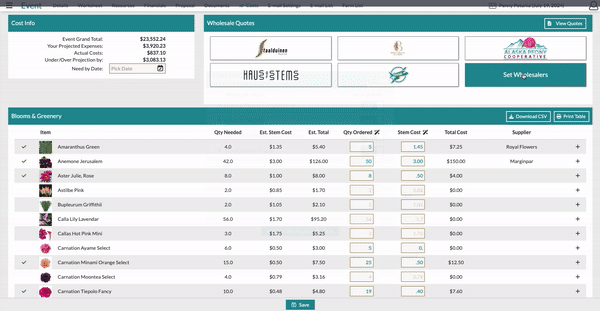 You can also set the wholesalers you would like to see at the top of your costs page by clicking 'Set Wholesalers' and toggling the wholesalers on or off.
Once you have accepted your quote and ordered your products, it's time to fill out your 'Costs' page! Fill in the 'Quantity Ordered' and your 'Stem Cost'. This will give you your 'Total Cost' per item, your 'Actual Total', and your 'Over/Under By' amount.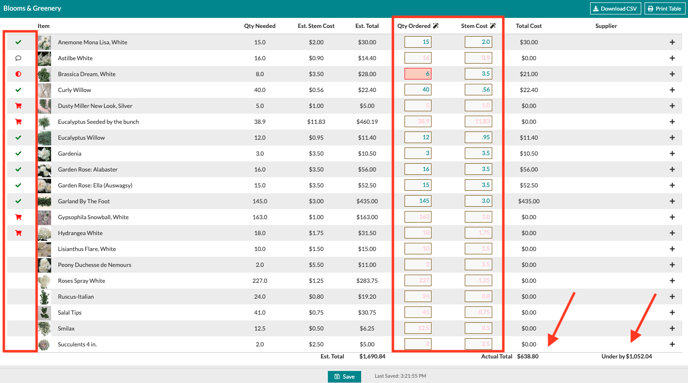 As you fill out this information, the status for each item will update. You can also manually update each item's status by clicking on the status area to the left of each item to reveal the list of status options.
If you enter a 'Quantity Ordered' that is less than the 'Quantity Needed,' you will see the 'Quantity Ordered' field turn a peach color to let you know you will need to order more.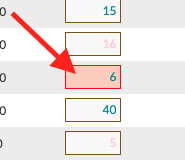 You can download a CSV from this page or print it off for your records. Check out our short walkthrough video of the costs page below to see that costs page in action!