YES! Share your love of Details with other florists to earn credit towards your Details subscription payment!

What is the Details Affiliate Program?
The Details affiliate program allows you to share a unique affiliate code with other florists whom you feel would also benefit from our software. The florist who uses your unique code will receive $50 off their first two months with Details, and in return, you will receive a $75 credit towards your next subscription payment!
Note: The credit will be added to your account after the referred florist's first full payment is processed after the discounted introductory period ends.
How do I get started?
Click the button below to fill out our form! Once we receive your submission, we will create a unique code just for you and send it over in an email. From there, you can start sharing your code immediately!

What if the florist wants to see other users' reviews?
If you are looking for a list of reviews to show what other florists have to say about the platform, look no further! Our Testimonials page lists reviews from some of our amazing florists highlighting what they love most about Details. Once on our Testimonials page, you can even leave a review of your own! Below are just a few of the fantastic reviews we have received.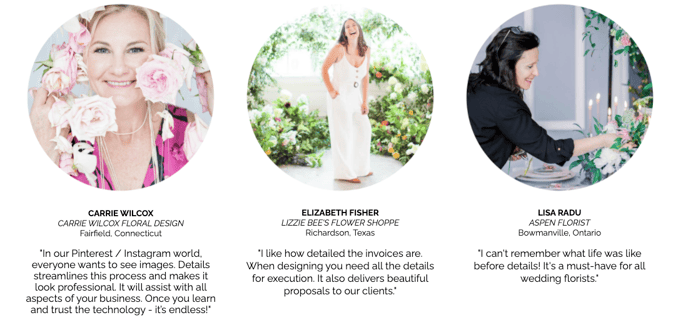 ---
How can I become a Social Influencer for Details?
If you love Details and have a strong online presence through social media, you may be the perfect candidate to become a Details Influencer! Click the image below to fill out our application form to receive more information about becoming an influencer and the benefits that go along with it.