There's a sea of inspiration out there! This gallery is an open-ended area for you to store a variety of images.
Do you have certain images you want to store? Think along the lines of venue photos, entire room floral design plans... The Inspiration Gallery is a great place for these! The photos you upload here will not show on the Design Board, but you will be able to select them for the recipe and proposal template.
To get to your Inspiration Gallery, click the 3 lines on the upper-left corner of your Details screen.
Click Resources > Inspiration Gallery.
To upload an image, click the 'Upload New Image' box.
To clean up your gallery, hover over the right corner of an image and click the trash can that appears.
Here's how to tag Inspiration Gallery photos to your event:
When in your client event, click Resources > Inspiration Gallery.
Hover over the right corner of your preferred image and click the star that appears. You may also delete at this time.
Special Note: Your selected images will show under the 'Event Favorites' menu for the proposal template. You can also select any of your images for your recipes as well. Simply click the recipe photo on the Design Worksheet and select your desired image.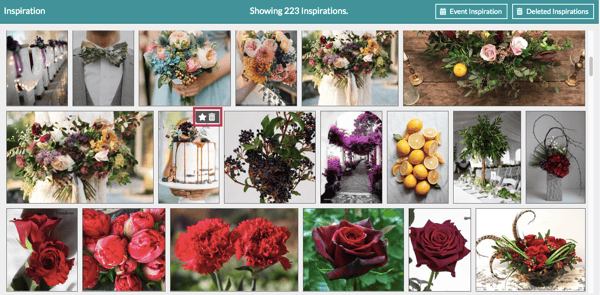 Using An Inspiration Image As A Recipe Image
You can use your inspiration photos as a recipe image for your event. To do so, follow these steps:
Click the '+' on the line item you wish to add a recipe to
Select 'Add Blank Recipe' from the upper right-hand corner
Click the place-holder recipe image
On the resulting pop-up screen, you will see your 'All Inspiration' where you can choose a photo.
To select one of your 'Event Inspiration' (those you took the time to star in the 'Inspiration Gallery'), click the 'Choose From' button in the upper right-hand corner
Select 'Event Inspiration'
Click on the image you wish to use to load it into the 'Recipe'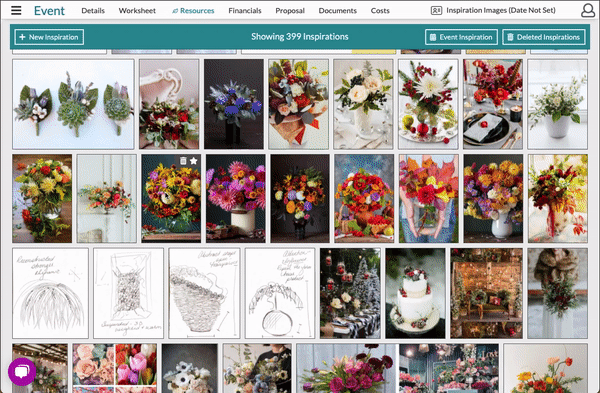 Using Inspiration Images On The Proposal
You can also use the inspiration photos on your proposal on the 'Cover' and 'Concept' pages. Watch the short clip below to learn more!