With hundreds of items, it's important to know how to narrow it down quickly and easily!
Search & Filters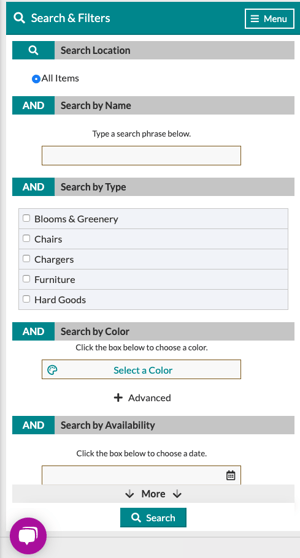 Search by keyword or filter by item type, color, and availability. Navigate the Search & Filters panel by using the 'More' buttons at the top or bottom of the panel.
Search Location: Select where you want to search, whether that's All Items or the collection you're currently accessing (i.e. Accent Decor)
Search by Name: Enter a keyword or full item name.
Search by Type: Check any of the boxes for item types you would like to view.
Search by Color: Select a color from the ones shown, enter a color code, or click the palette icon to use the Color Palette tool to find a color. You can adjust the color match threshold by clicking '+ Advanced' and moving the dot closer or farther away from the selected color.
Search by Availability: Click the calendar icon to select a date with the Date Picker tool.
Once you've set up your search and/or filter terms, click the 'Search' button to execute or the 'Clear' button to reset the fields.