Set up default contract terms for each proposal. These can be amended on an event-by-event basis, but having strong defaults is an important step to getting started!
Details Flowers provides some basic contract terms you can use, or you can create your own. With the pre-sets, you can enter your specifics, such as your company name.
To get in and edit each section, click the arrow icon next to the desired section.
It's important to review each term. Click the right-pointing arrow to pull up the text. Throughout the terms, you will also see tokens, which you can choose to adjust if you would prefer.
Tokens allow you to automatically populate certain information for each event. Learn more about Contract Tokens by clicking here!
Don't want to use a certain term? Click the 'x' to delete it
Accidentally delete a term? Click the 'Show Deleted' at the top of the terms to view the deleted items. Click the round arrow icon to restore it.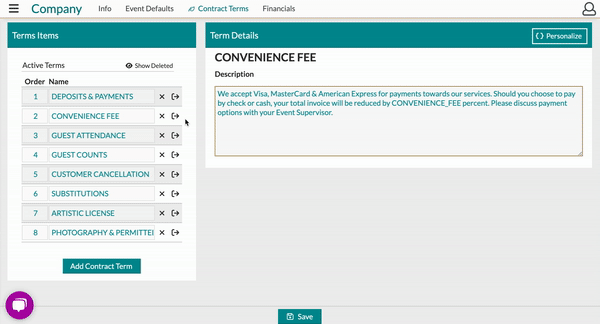 Want to change your contract terms for a specific event? Check out this Support Center article to learn how: Managing Contract Terms