The Design Board is a a great place to gather resources for an event!
There are three things you can attach to your Design Board: Recipe photos for new recipes, recipes from the gallery, and items from your resource gallery. These are everything you need to efficiently build a beautiful event.
Adding Recipe Photos for New Recipes:
Click the '+ Add Recipe' button on the top-right of the Design Board.
In the box that pops up, find your desired images and select the images you would like to upload.
Special Note: You may bulk select/upload during this process. Additionally, the images you add to this area are automatically saved as a recipe - you can update these with ingredients later!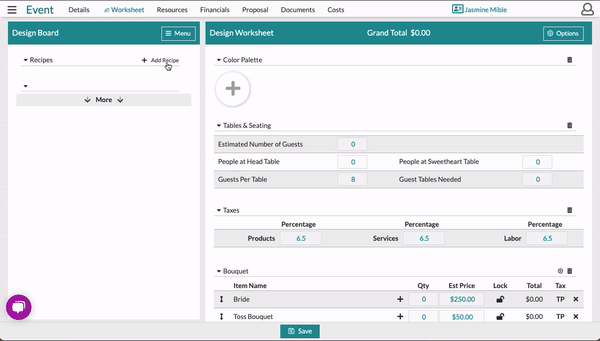 Adding Ingredients/Recipes to your Design Board:
You'll need to leave the Worksheet so make sure you save a New Version!
Click 'Resources' and then 'Item Gallery' or 'Recipe Gallery'.
Wait for the gallery to load. Once it does, click 'Filter/Search' in the upper-left corner.
Select the item type you would like to gather, such as 'Blooms & Greenery'.
Click 'Search/Filter' and wait for your desired item type to load.
Special Note: Click the 'Filter/Search' button in the upper-left to hide the filters.
To add your items/recipes:
Hover over each image and a star will appear in the upper-right corner. Click the star.
For a more condensed list, click the 'Table' button located in the upper-right corner.
Click the star for each item you would like to add.
Special Note: To add recipes you've already created, follow the same steps above, but while in your Recipe Gallery.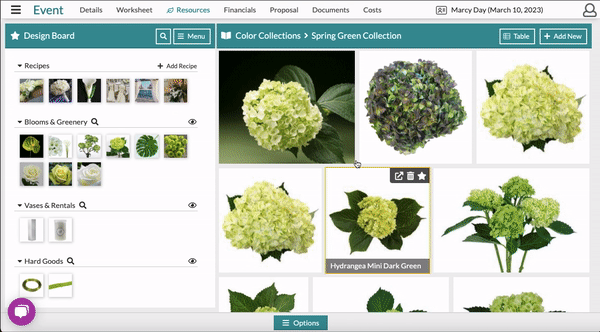 To remove items from your Design Board:
If you're still in the Item/Recipe Gallery, simply click the star again and it will remove itself from your board.
If you've left the Resource Galleries, head back into the associated gallery (to remove items > Item Gallery and recipes > Recipe Gallery).
Click the eye icon next to the category you wish to remove the recipe/item from. This will pull up your favorites.
Click the star to remove it from your Design Board.
Special Note: This can be done in the 'Image' or 'Table' view.