Protect your payments from chargebacks by enabling 3D Secure for your connected Stripe account!
What is 3D Secure?
For extra fraud protection, 3D Secure requires customers to complete an additional verification step with the card issuer when paying. Typically, that means that, when processing a payment, clients will be prompted to enter a password associated with the card or a code sent to their phone.
Payments that have been successfully authenticated using 3D Secure are covered by a liability shift. Should a 3D Secure payment be disputed as fraudulent by the cardholder, the liability shifts from you to the card issuer.
Read more about liability shift: Stripe Support Center Article
How do I enable 3D Secure?
Start by logging into your connected Stripe account and then follow these steps:
Click 'Settings' at the top of the right-hand side of your Stripe account.
Within the Settings, look for the area titled 'Radar' and click 'Settings'
Note: 'Radar' is a premium tool from Stripe; however, the 3D Secure settings located within it are free to all Stripe users.

Within the 'Radar' area, click the toggle under the 'Rules' area.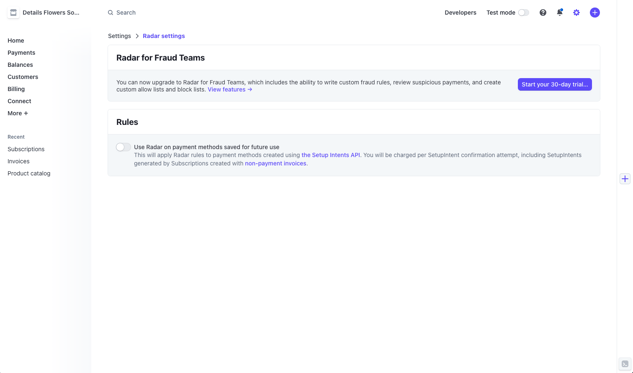 With the 3D Secure feature, there are three automatic rules in which 3D Secure will be enabled:
Required: This option will be enabled by default, and it will activate the 3D Secure processor for any card that requires it. Card issuers typically control this in compliance with various regional laws.
Recommended: This option will activate the 3D Secure processor for any card that meets automated risk-assessment factors. That means it will trigger the 3D Secure processor if Stripe thinks it needs to due to the potential risk of fraud or dispute.
Supported: This option will activate the 3D Secure processor for any card that supports it, meaning that it will be enabled whenever possible, regardless of necessity.
💡 Want the ability to write custom fraud rules, review suspicious payments, and create custom allow lists and block lists? Stripe offers 'Radar for Fraud Teams' as an additional premium tool!