The Admin Fee allows you to apply an extra percentage to the event grand total - it's not the same as a convenience fee.
The Admin Fee applies to all of the charges for an event, and it's applied from the Worksheet. It can also be added to your Event Defaults worksheet to include it in every event you create!
How to add an Admin Fee to your event:
Click the Options button on the upper-right corner of the Design Worksheet.
Click Worksheet Settings
In the Admin Fee box, type in the percentage of the CC fee. Do not use decimals (example, type in 10, not .10)
Click the x to close the settings box. Once complete, your percentage will be calculated and divvied up according to your required payment schedule.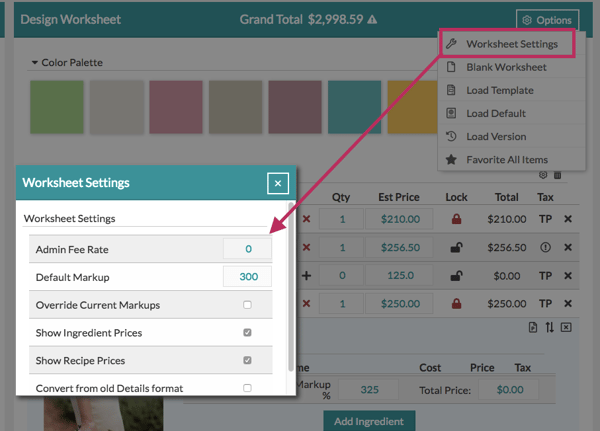 Special Note: You can add an Admin Fee on your Event Defaults page. This will activate it at the start of every new event, so you do not have to adjust it each time. To learn more, check out this article:How do I build my Event Default Worksheet? (admin fee, taxes, line items, and fees)

Please check with your accountant to ensure that charging a convenience/admin fee is legal in your state, as well as learn the applicable guidelines.