Let's learn how to add and edit items in the Item Gallery!
Adding Items
Let's go through the process of adding a new item. Follow these steps:
Within any Collection, click the 'Add New' button in the top-right corner of the screen.
Select 'New Item'
The modal window will open and you can start editing. There are a few different tabs within the modal window that you can use to enter various information. For the most part, they function exactly the same way as the previous iteration of the Item Gallery. Let's take a quick look at each tab:

Images: There are two tabs for images; one for uploads and one to use as a viewer. With the New Item Gallery an item can have multiple images (hence the viewer), and you can upload multiple images at the same time. To upload an image, click the button to upload or simply enter an image URL in to the appropriate field. Once your image(s) is uploaded, you can choose to save or change them. If you don't click save beneath the newly uploaded image it will not be saved.
Description: Use the corresponding fields to enter an item name and description.
Details: Select the item type and then fill out the corresponding cost fields.
Colors: Use the standard color palette tool to set item colors. These can later be used as search parameters.
Availability: Check the boxes for the months that this item is available. These can later be used as search parameters too.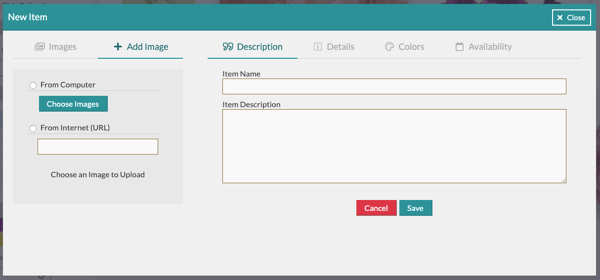 Editing Items
There are two separate views of the items, the Item Modal (as seen above) and the Item Details (continue reading). The first is a quick-view window, the other is a full-page view filled with customization options.
If you're editing in the Item Modal, refer to the instructions above!
If you're working with the Item Details page, check out this Support Center article: The Item Details