Monthly and Annual accounts come with one user and Enterprise accounts include two users. Each additional user is $25/month. Follow these steps to add an additional user:
Click the three horizontal lines in the upper-left corner of the page to open the main menu.
Click 'Settings' and then 'Authorized Users'
Click the 'Send Team Member Invite' button.
Fill in the user information. The email will be used to login and must be unique to the user.
Click 'Send Invite'
The new user will receive an email from Details asking them to create a password, giving them access to the account!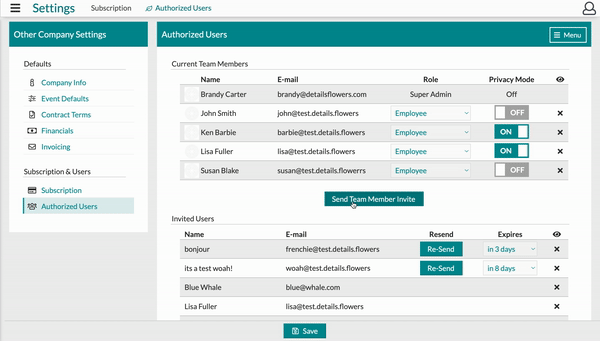 Please be advised that only users with a role of 'Owner' or 'Manager' have access to the 'Authorized Users' page. Those marked as 'Employee', will be redirected to the 'Event List' page if they attempt to access this page.
Re-Sending/Extending An Invitation
You have the option to re-send or extend an invitation at any time. Each invitation will initially start with an expiration time frame of 3 days. Check out the image below to see these options and where to adjust them!

Special Note: Owners & Managers may access ALL events within the system. Employees may only access those that they are the Event Lead or Team Member on. You can learn more about user permissions by clicking here!