When you add a new client to Details Flowers, Zapier will create a new folder for your client.
This will give you a place online to upload and store relevant files for your client. Think inspiration, proposals, and more!
Note: This is not retroactive and will only apply to events you created after implementing this Zap.
Trigger
First, click the 'Make a Zap' button.
In the search bar, type in 'Details Flowers' and select.
Click 'New Client' and then 'Save + Continue'
If you have not already connected your Details account, click here to learn how. Otherwise, it will pull up your Details account - click 'Save + Continue'
Pick a sample for the next step - it does not need to be a current event. Click 'Continue'
Note: You can pull more samples if you like.
Action
Click the blue link asking you to add an Action.
Search for and click 'Google Drive'
Select 'Create Folder'
Connect your Google Drive (if needed) and click 'Save + Continue'
Next, you'll fill in the required fields to finish up the Zap. Click within the 'Google Drive' box and find 'My Google Drive'
Optional: Pick a parent folder.
Click in the 'Folder Name' box and select what you would like it to be called. We suggest using 'Contacts Full Name'
Click 'Continue'.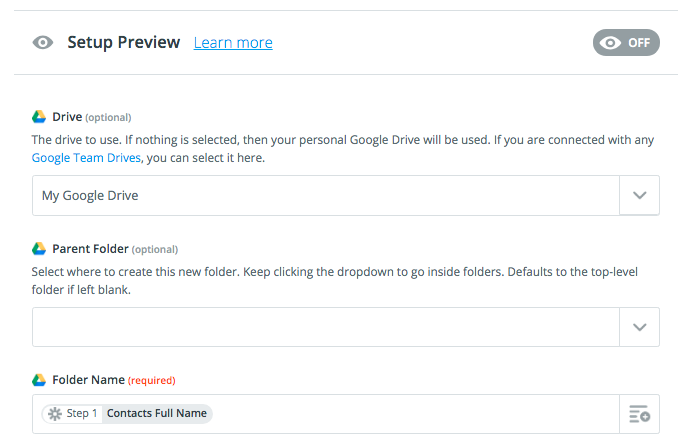 Finishing Up:
Once the above is completed, you'll be asked to send a test. Click 'Send Test To Google Drive'
A bar will pop up letting you know if the test was successful or not. If successful, click 'Finish'
Name your Zap and then click the switch to turn it on.
Check out the Zapier Learning Center!